Pro-Trump pastor opines that lesbian community baiting straight women
According to Pink News, a very prominent pro-Trump pastor, who is also a radio host, said softball prevented his daughters from becoming lesbians.
"Our two daughters played college softball… Every time I'd go to the ball games, I kept an eye on my daughters to see if they'd taken the homo bait yet… and they hadn't," the pastor said, "they didn't have to because they weren't cropped-haired wide-bottomed girls. They were pretty girls, godly women, they didn't take the bait."
The implication being that the lesbian community, as a whole, actively lures and recruits heterosexual women, according to the pro-Trump pastor. Others might doubt that assertion, of course.
Pope prefers atheists to bad Christians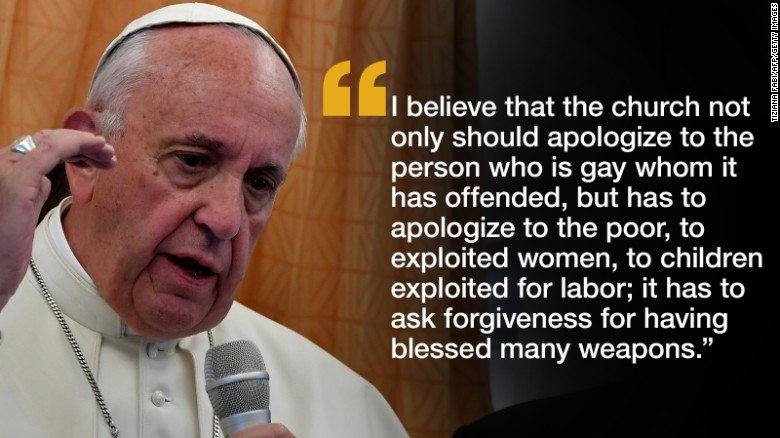 CNN states that the Pope is concerned about fake Christians. He prefers atheists rather than fake Christians. The sermon was based on the Thursday Mass readings. It included parts of the Gospel of Mark.
Jesus Christ, in the Gospel of Mark, said, "It is better to be drowned than to cause others to sin." So this includes the 'encouragement of fraud by business leaders, agitation of students by teachers, and manipulation of people away from moral values.'
Pope Francis has been a critic of the excesses of capitalism and greed in business people. This critique is in line with his standard line of criticism. Those Catholic Christians who would be hypocrites to their creed would be less preferred than atheists to the current Vicar of Christ on Earth.
Australia's most famous cult makes the news
Daily Mail reports that 14-year-old children – yea – were given LSD. That's quite remarkable and tragic for children to be forced to have mind-altering substances without consent and in cult circumstances.
Those tragic circumstances were in Australia by their most infamous cult, apparently, called The Family. Creepy. Former police officer, Lex de Man, headed a task force to investigate The Family confirmed the LSD story to be true.
'When they [the children] were administered the LSD at night and the room was dark, Anne would appear at the doorway with a bright light behind her with dry ice in a bucket… and through the hallucinogenic process they would wake up and believe they had seen Jesus Christ,' Mr de Man said.
Scott Douglas Jacobsen is the Founder of In-Sight: Independent Interview-Based Journal and In-Sight Publishing. Jacobsen works for science and human rights, especially women's and children's rights. He considers the modern scientific and technological world the foundation for the provision of the basics of human life throughout the world and advancement of human rights as the universal movement among peoples everywhere.