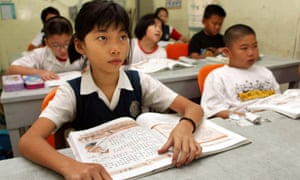 Chinese textbooks translated for UK
According to The Guardian, there has been a "historic" agreement, or "deal," between HarperCollins and one Shanghai publishing house for the translation of books to be used in schools in the United Kingdom.
Shanghai and Beijing are two of the wealthiest cities in China in addition to producing some of the best math students in the world, which contrasts with British students, in general, who rank far behind their Asian cohort.
The agreement was signed with the education division of HarperCollins. The deal is for a series of maths textbooks. Managing director of Collins Learning, Colin Hughes, was quoted as saying, "To my knowledge this has never happened in history before – that textbooks created for students in China will be translated exactly as they have been developed, and sold for use in British schools."
UK Education Expo for Omanis
Muscat Daily reports that "Ahlam Higher Education's latest edition of the UK Education Expo officially began at the Grand Millenium Hotel on Monday. The two-day expo was inaugurated by H E Sayyid Salim bin Musallam al Busaidi, Undersecretary for Administrative Affairs in the Ministry of Civil Service in the presence of Russ Dixon, Deputy Ambassador, British Embassy, Muscat."
H E Sayyid Busaidi made a particular note to the importance of higher education for Omani students because of the the growth and diversification of the Omani economy will require students and parents "informed about a wide variety of programmes available.
The managing director and student adviser of Al Ahlam Higher Education Services, Kate Clarke, described the importance of education for "consistent, inclusive and equitable economic growth." That is, the growth that typifies the standard sustainable development of a nation.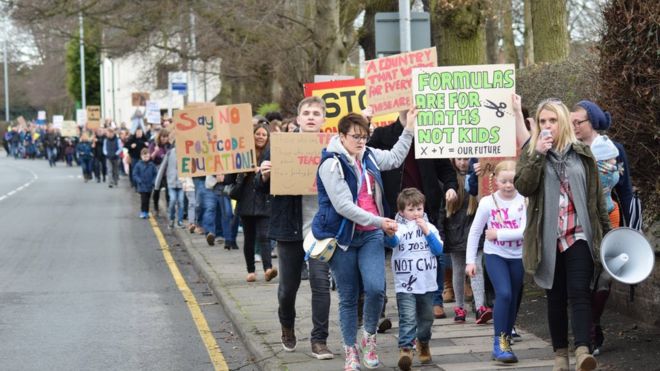 Sandbach education protests
BBC News states that 100s "of parents have taken part in a protest march against what they claim are "unfair" school funding plans." There is a new national formula. The formula is an attempt to address the "inconsistent" funding.
There was a protest or march at Sandbach School over this funding issue. Laura Smith, the organiser, described the march as an opportunity for the parents of Cheshire to express the anger for their children being left worse off.
For Cheshire east, the national funding formula would reduce the amount of the funding per student by "£4,200, which is among the lowest in the country." That contrasts with the Westminster schools that will receive about £6,000 per student.
Scott Douglas Jacobsen is the Founder of In-Sight: Independent Interview-Based Journal and In-Sight Publishing. Jacobsen works for science and human rights, especially women's and children's rights. He considers the modern scientific and technological world the foundation for the provision of the basics of human life throughout the world and advancement of human rights as the universal movement among peoples everywhere.